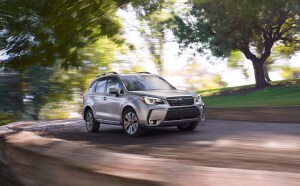 Experienced Subaru drivers would agree that these vehicles were made for hitting the open road. The 2017 Subaru Forester is one of those vehicles, as it's one of the latest compact-style SUVs that comes standard with all-wheel drive.
The all-wheel drive feature only makes sense, as Subaru promotes getting out in your environment and exploring the true beauty that life has to offer.
However, this isn't the only function to talk about when it comes to the Forester. After you read this in-depth review, visit Prestige Subaru for a test drive and see what it takes for you to get out on the road in Mount Laurel, Cherry Hill, and Turnersville, NJ.
Overview
The 2017 Subaru Forester is a fair-sized, easy-to-drive SUV. With a sleek exterior and fashionable clean lines, this vehicle is sure to catch the eyes of passersby. Like most cars in its class, the front seats of the Forester are generous in space, making longer road trips that much more comfortable.
Due to its compact yet roomy size, the handling behind the 2017 Subaru Forester is quite impressive. Remember, the goal is to explore in the Forester, and that can mean the occasional off-roading trip.
Paired with the suspension, the all-wheel drive and vehicle's size work together to combat stormy weather and overall rough terrain. Additionally, the steering is great, and this vehicle is weighted well throughout, making you feel secure when navigating tougher driving conditions.
Engine
There are two engine choices for the Forester: a 170-horsepower 2.5-liter and a 2.0-liter 250 (2.0XT) horsepower engine. The Forester's 2017 model comes standard with a six-speed manual transmission, but for the drivers who prefer to handle an automatic transmission, that's an option as well.
Technology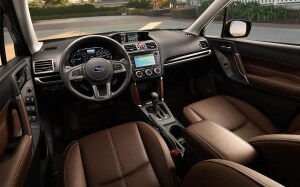 There's a number of technological advancements that any Forester owner could benefit from. EyeSight Driver Assist is one of these features, as the two cameras mounted near the rearview mirror can help to monitor traffic. As the driver, you can react to threats before they happen. This feature can even go as far as applying the brakes for you in emergency stop situations. However, we still suggest driving with caution at all times.
Each version of the Forester comes standard with Bluetooth technology, a feature many new car owners look for in their vehicles nowadays. Voice-activated GPS navigation systems are also available as an upgrade.
Additional technologies can include Subaru STARLINK with Pandora integration (which comes standard), an upgradable 7-inch touchscreen, STARLINK safety plus, and security and a power gate, which closes and opens with the simple touch of a button.
Test Drive Your New 2017 Subaru Forester Today
Overall, the 2017 Subaru Forester is an impressive vehicle made for the SUV lover and the adventurer alike. With standard options that are generally pricy upgrades for many of their competitors, it seems the Subaru Forester could be taking a step forward in surpassing their competition.
If you're in the Mount Laurel, Cherry Hill, and Turnersville area of New Jersey, be sure to take a look at the inventory at Prestige Subaru and contact us to schedule a test drive today.