When it comes to technology, the Subaru Forester is one of the most up-to-date compact SUVs on the market. With its Subaru STARLINK™ in-vehicle technology packages, you can expect nothing less than the best in terms of safety, security, and multimedia. Welcome to the bold future of automotive tech.
But here's the best news - if you live around Turnersville, Cherry Hill, or Mount Laurel, New Jersey, then you can test drive the 2018 Subaru Forester today at Prestige Subaru. Contact us to set up a test drive!
STARLINK™ Safety and Security
When it comes to safety, there can be no room for compromise. After all, it's your lives that are at stake.
Automatic Collision Notification: As soon as the airbags are deployed, a STARLINK™ Customer Care Advisor will contact you via your SUV's speaker. They'll even notify emergency responders.
SOS Emergency Assistance: Or, if you'd like to trigger the contact with your STARLINK™ Care Advisor manually, you can do so by pressing the red "SOS" button on your overhead console.
Enhanced Roadside Assistance: Perhaps you need some roadside assistance, but it's not quite an emergency? Well, that's not a problem…just press the blue "i" button, and help will come.
Diagnostic Alerts: When one of your dashboard lights turns on, you'll get an explanation email.
Monthly Vehicle Health Report: You'll also get a comprehensive monthly diagnostic email.
Maintenance Notifications: And, if your vehicle requires maintenance, you'll receive…you guessed it…an email. These are just some of the ways Subaru makes driving way easier.
But security can be just as important, too - if your car is stolen, nobody will be driving anywhere. Right?
Vehicle Security Alarm Notifications: Furthermore, you'll receive any email when your vehicle's security alarm goes off. This way, you can know if somebody's tampering with your car. Cool!
Stolen Vehicle Recovery: Last, but certainly not least, if your Forester is ever stolen, you can contact your STARLINK™ Advisor, who will work with police to get it back as soon as possible.
Plus, with the MySubaru app, you'll have access to convenient remote services, such as Remote Lock and Unlock, Remote Horn/Lights, and even Remote Vehicle Locator. Too bad you can't drive remotely!
Multimedia Tech in the 2018 Subaru Forester SUV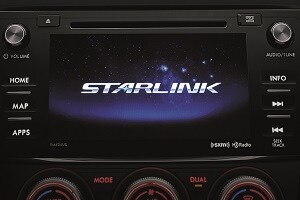 But the Subaru Forester's advanced technology suite isn't all about safety and security - not in the least.
Their software engineers have worked hard to make sure that you get the music, podcasts, navigation, and news that you need…even while you're on the go. Scratch that - especially while you're on the go.
iOS and Android Compatibility
High-Resolution Touch Screen
Voice Command Technology
Bluetooth®, Pandora®, and SiriusXM® Availability
Magellan®, TomTom, and more - Advanced Navigation Software Compatibility
Schedule Your Test Drive Today!
So, if you'd like to experience some of these out-of-this-world Subaru technology for yourself, please call us or chat with us on our website to test drive the 2018 Forester right now. We're just down the street from Mount Laurel, Cherry Hill, and Turnersville - and we're here to serve all of our New Jersey friends.