Camping and taking long road trips in your Subaru gives you an experience like no other. Subaru models like the Outback, Crosstrek, Forester and Impreza hatchback have everything you need to make the outdoors feel like home. This includes ample interior space to transform your Subaru into your own personal camper.
Here's how to do it!
Transforming Your Subaru into a Camper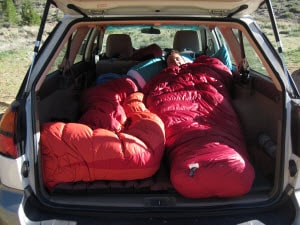 When you need to lay down and take a rest from driving or don't want to deal with a tent when camping, your Subaru can double as your bed on wheels. It's spacious and some models even come with a sunroof, so you can gaze at the stars as you drift to sleep.
Transforming your Subaru into a camper is simple. All you need to do is grab pieces of wood and some tools, then follow the steps below.
1. Measure the Interior. Turning your Subaru into a camper essentially means putting a makeshift bed inside. You need to know interior dimensions of your vehicle to make sure everything fits. To do this, fold the back seats flat and measure the length from the end of the cargo area to the top of the back seats. Then measure the width of the trunk opening. Finally, measure the height between the bottom of your back windows to where the rear seats are folded.
2. Choose Your Wood. Once you have the measurements, head over to your local hardware store and grab a couple of pieces of durable plywood. You'll need four in total. One large piece that's as long and as wide as your car and three smaller pieces of the same length and about as wide as the height from the back window to the rear seats of your vehicle.
3. Assemble Your Platform. Take the three smaller pieces of wood and attach them to the larger piece of wood using wood screws and a power drill. Line up a small piece of wood at the edge of both sides of the bigger piece of wood. Then take the last small piece and attach to the center of the larger piece. When you're done, it should look like a platform.
4. Great Ready for the Great Outdoors. Once your sleeping platform has been assembled and placed securely into your Subaru, place a foam mattress topper on the platform, grab your pillows and blankets and start making the interior feel like home. Pack your camping gear underneath the platform and you should be ready go!
Things to Consider
While turning your Subaru into a camper is easy, the process can be a little dangerous. Have a friend help you with assembling the platform. You also want to make sure you choose the right type of wood. Remember it needs to be strong enough to support your weight, so ask a professional at the hardware store to see which type is best for your needs.
Most importantly, you don't want to overload your vehicle with too much weight while traveling. To avoid this, determine how much your car can carry by subtracting its curb weight from its Gross Vehicle Weight Rating (GVWR) and make sure you don't exceed it.
Take on the Open Road in Your Subaru
Whether your camping or planning for a summer road trip, turning your Subaru into a camper can help you better enjoy the adventure ahead.
For more information about how you can turn your Subaru into a camper, contact Prestige Subaru in Turnersville near Cherry Hill and Mount Laurel today!