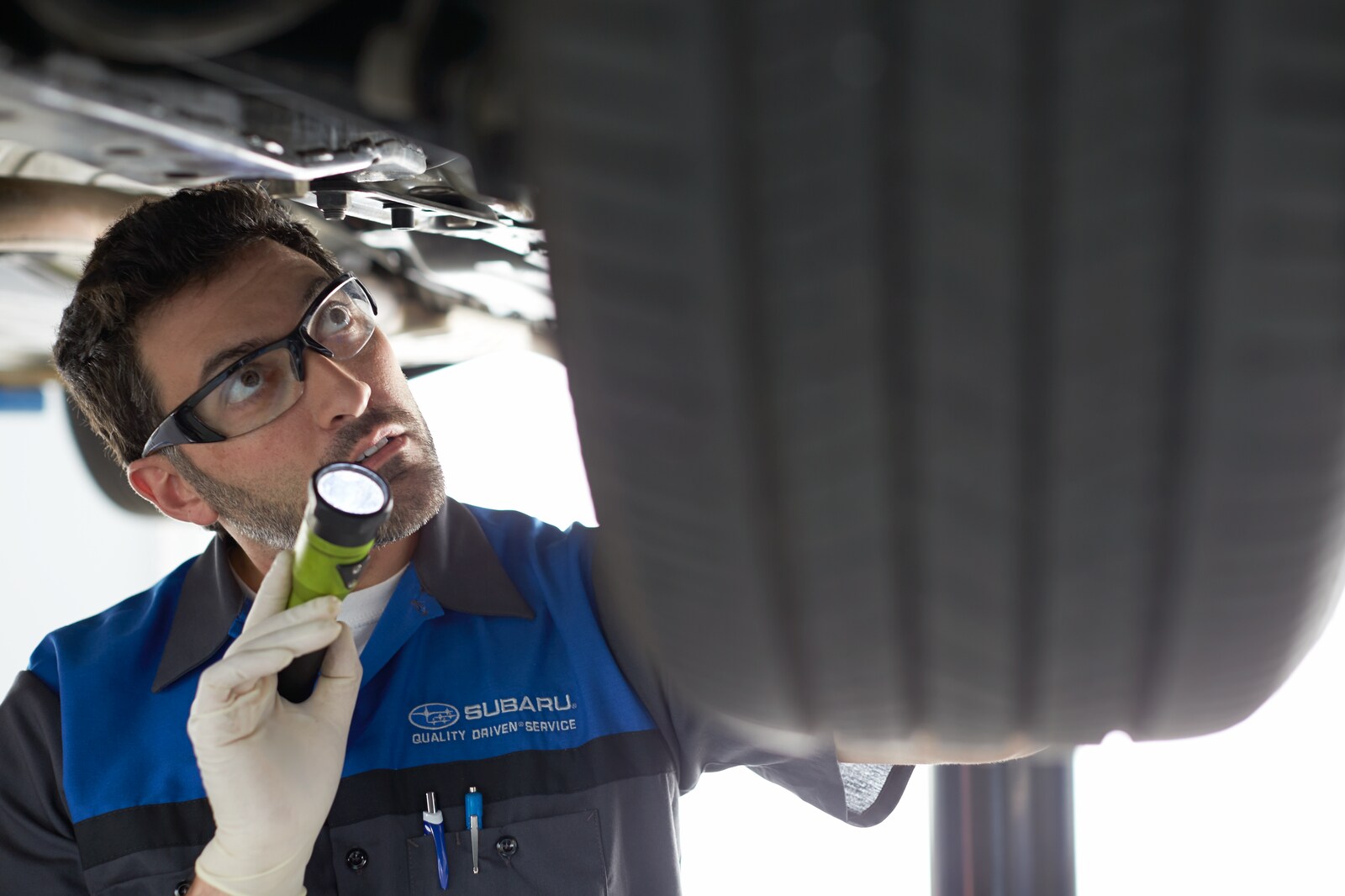 Keep Your Subaru Running Smoothly at Prestige Subaru of Turnersville
Here at Prestige Subaru of Turnersville, we know how important professional Subaru service for your vehicle, and we're dedicated to the art of keeping your ride running smoothly. Our state-of-the-art Subaru service center in Turnersville is ready to help with all your service needs, whether your Subaru Outback is due for routine maintenance or your Subaru Forester needs repair. Our highly trained technicians are here to help, and we look forward to helping you get the most out of your Subaru.
Save with Our Service Specials
Taking advantage of professional Subaru service isn't the only perk that you can enjoy when you bring your Subaru to our dealership for maintenance. We also offer a rotating selection of service specials to help you save on the maintenance items your car needs most. So, if your Subaru is due for routine service and you're looking for ways to save on your next appointment, you can always find exciting opportunities to save on popular Subaru services near Washington Township.
Schedule Subaru Service with Ease
Regular maintenance helps to keep your car running smoothly, so we aim to make the process of making an appointment as simple as possible. Whether your car needs a quick oil change or something a bit more complicated, getting in touch with our team is all it takes to get on the books. You can make an appointment by scheduling online, calling our service center, or even by stopping by our dealership. Whatever is most convenient for you works for us.
Subaru Service FAQs
Do you have questions about Subaru service? We're happy to answer them! We come across a lot of questions here at our service center, and we're always happy to help our customers get the information they need to feel confident about maintaining a Subaru vehicle. Here are a few of the most common questions that we encounter:
What does the Subaru maintenance plan cover?
Subaru maintenance plans cover major components related to your car's AWD system, transmission, and engine. They can also cover brakes, steering, air conditioning, and more, depending on the plan that you choose. The goal is to keep the vital parts of your vehicle in tip-top shape so that you can enjoy greater peace of mind.
Are Subaru models more expensive to maintain?
Maintenance costs vary depending on the age of your vehicle and how well it is maintained over the course of its life. Subaru models are renowned for their reliability, and our goal is to help you keep your car well-maintained so that you can fend off costly repairs.
Can any mechanic work on a Subaru?
Yes, but only highly trained Subaru professionals like the ones at our service center understand the nuances of the Subaru lineup; all the little things that make your Subaru special! Our team is also equipped with specialized tools and an inventory of genuine Subaru parts, allowing our expert Subaru technicians to deliver a spectacular quality of service that you won't find just anywhere. So, if you're looking for the kind of confidence that comes with knowing that your car is getting the professional, Subaru-specific maintenance it deserves, our Subaru service center near Deptford Township is here for you.
Contact Us with More Questions
If there's anything else you want to know about servicing your Subaru near Sicklerville and Williamstown, NJ, please feel free to reach out. We're eager to connect with you and answer your questions, and we look forward to hearing from you! Call, stop by, or contact us online to get in touch with our team.