The 2021 Subaru Love Promise Community Commitment Award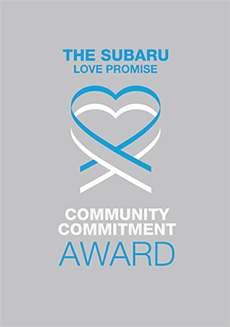 We've been nationally recognized for our dedication to our community and the Subaru Love Promise.
We're honored to receive the 2021 Subaru Love Promise Community Commitment Award. This award nationally recognizes Subaru retailers who are making the world a better place while demonstrating an outstanding commitment to supporting passions and causes in local communities. These efforts are focused in important areas such as the environment, community, health, education, and pets.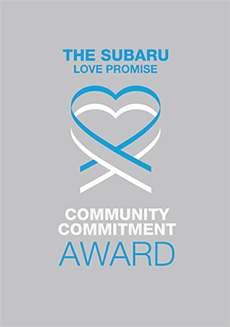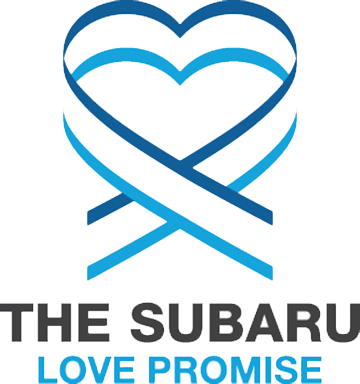 What is the Subaru Love Promise?
Subaru and our retailers believe in making the world a better place and the Subaru Love Promise is our vision of respecting all people. This is our commitment to show love and respect to our customers and to work to make a positive impact in the world.
How is Prestige Subaru of Turnersville NJ dedicated locally to the Love Promise?
Our Love Promise can be seen in various partnerships with local charities and non-profits. We're grateful for the opportunity, not only to be a part of our community, but to serve it as well.
All Green Electronics Recycling
Habitat for Humanity, Holy Cross Academy Football, Holy Cross Academy Soccer
Love Promise Stories from Prestige Subaru of Turnersville NJ
Subaru and Prestige Subaru of Turnersville NJ believe in making a positive impact on the communities in which we live and work. We uphold that belief through our Love Promise Community Commitment. Every month, we select inspiring stories from customers and partners from around our area who strive to support our collective commitment and feature them here
Clothing Drive for the Vietnam Veterans Of America - Emily L
A special thank you to Prestige Subaru for hosting a clothing drive for the VVA all December long. Prestige Subaru collected over 1,000 articles of clothing to help families in need. This has proven to be a huge help for the veterans and the people in need. Thank you!
---
No Shave November for Men's Health - Anthony D
Thank you to the Zanger Family and the Prestige Family of Dealerships for their generous donation to the Washington Township Fire Department's #NoShaveNovember FD vs PD challenge! During the challenge we raised money for a local family in need and raised awareness for men's health.
---
Prestige Subaru Comes Through Again - Antonio G
Homeward Bound Adoption Center would like to give Prestige Subaru a huge shout out for letting us bring some of our furry friends to their dealership for an adoption event. Onion and Henry, who are some of our special needs dogs had a great time there. We know these two pups were very happy to be out and got the chance to meet so many cool people. Thank you, Prestige Subaru for allowing us to bring our furry little friends.
---
Subaru Supports the Girl Scouts - Charlie B
Charlie would like to send a big "Thank You" & Virtual Hug to everyone at Prestige Subaru of Turnersville for supporting her Cookie Sales! The employees of Prestige and customers helped Charlie get closer to reaching her goal of selling 600 boxes this year. The money raised from cookie sales go to her troop and allows for them to participate in activities which teach Service, Community, and Leadership, and helps them to earn their patches. Thank you for sharing the love to this 2nd year Daisy!
---
Second Chance for a Happily Ever After - Gina D
Bacci came to us as an owner surrender. His owner was going through a divorce and looking to move, and Bacci, being a very large- if gorgeous- Italian Mastiff- wasn't welcome in most of the places his owner was looking to go. Also, he had a bad habit of chewing on socks, and his owner worried he'd get himself into too much trouble being left alone for long stretches of the day. He brought Bacci to Homeward Bound Pet Adoption Center in Blackwood, NJ. He immediately became a staff and volunteer favorite with his gentle giant demeanor and impossibly long tongue that curled like an eternal red carpet from his smile. Because of his size, Bacci was neglected by members of the public for many months. During the pandemic, a lovely family stepped up to foster Bacci so that he wouldn't spend the days confined to a small kennel. He flourished in foster care, going on long walks, curling up on the couch with a loving family, and having plenty of chew toys to choose from. Soon, Bacci lost interest in socks and directed his energy into appropriate outlets like exercise, tug-of-war and fetch. Once his foster family returned him to the shelter as COVID restrictions eased, the staff worked hard at highlighting Bacci for the public. We all wanted so much to help him find his forever family. We understood that his size made him seem intimidating, but once Bacci warmed up, he was the snuggliest good boy in all of South Jersey. During the Subaru Loves Pets campaign in October, we were able to highlight a special reel of Bacci's greatest photos in an effort to find his forever family. Thanks to the promotion, Bacci found his forever home with the most amazing adopters who have since loved him and given him such a wonderful life. He still has a bright future ahead of him, and thanks to Subaru's generosity, he's getting to live out that happily ever after. Thank you, Subaru!
---
Thank You For the Blankets - Antonio G
Anna Sample Family Shelter would like to thank Prestige Subaru of Tunersville, NJ for their generous donation of blankets. These blankets will benefit the families that use our services during these upcoming cold winter months. With support from companies like Prestige Subaru, we are able to provide a better and safer environment for families in need. Thank you again for your support and donations.
---
Love the Subaru Love Pets Event - Antonio G
Homeward Bound Pet Adoption Agency was honored to be sponsored by Prestige Subaru during the October Subaru Loves Pets event. With their virtual adoption event and the attention they brought to Homeward Bound Pet Adoption Agency on their webpage, thirty one dogs and cats found a forever home. We were so happy to partner with such a great company like Prestige Subaru and look forward to working with them again in the future.
---
Center for Family Services - Antonio G
For the last eight years Mr. Zanger and the team from Prestige have gone above and beyond in their commitment to engage employees and customers in giving back to the community through the Subaru Share the Love Campaign. Because of this support the Center For Family Services proudly recognizes Prestige Subaru of Turnersville as a loyal partner. With the money donated, survivors of sexual assault, domestic violence and human trafficking can find and follow a path to healing at Center For Family Services. The funds raised through the Prestige Subaru Share the Love campaign promote prevention and provide direct support to survivors of domestic violence and their children. The cost of treatment and counseling are also covered by the donations. Thanks to the investment from Prestige Subaru of Turnersville, many women and children received support in their healing journey. Thank you Prestige Subaru of Turnersville for being a positive force for good in our community.
---
Make a Dog's Day - Andy A
Subaru is proud to establish the first-ever National Make A Dog's Day October 22nd. As part of Subaru Loves Pets month, we're inviting all dog lovers to do something extra special for their furry best friends. Plus, Subaru will be focusing our efforts on helping the hardest-to-adopt shelter Dogs –those with special needs-find homes. Get ready to fall in love withThe Underdogs. #MakeADogsDay Meet Gabi! Gabi has been at the Humane Society of NWGA (Northwest Georgia) for seven years. If you asked the volunteers to pick their favorite animal at the shelter, Gabi would win hands down. She does not do well with dogs or cats so must be the only animal in an adult only family. She loves people and will bond very quickly to you. Gabi would make someone a great companion. She is waiting patiently for her forever home. If you have room in your heart and your home for this sweet girl then please fill out an adoption application, highlight and right click this link: https://hsnwga.org/adoption/application-for-adoption/?fbclid=IwAR2Ie18p6U3ryKi-niIuIZFTd-waD98xrySl7IJmiRBXE239WP7dpODubiU #MakeADogsDay #SubaruLovesPets #TheUnderdogs
---
Prestige Delivers Warmth/Hope to Cancer Patients - Stacy K
On Friday, July 26th, Prestige Subaru representative, Mike, delivered warmth and hope to cancer patients at the Sidney Kimmel Cancer Center in Sewell, NJ. The delivery was met by Oncology Social Worker, Abigale Hassel as well as Senior Patient Access Manager for the Leukemia & Lymphoma Society, Stacy Kreizman. Abigale assisted in allowing the blankets to be distributed to patients receiving their chemotherapy infusions that day- including one patient who shared how happy she was to receive the gift as that day was her last day of treatment, and another patient who shared how glad he was that the blankets were blue and white as he's a huge NY Giants fan and sat with a Giants blanket draped across his lap while receiving treatment. He immediately opened his Subaru blanket to add warmth! This was the first year the Sidney Kimmel Cancer Center had received blankets from Subaru and Abigale shared how grateful they were that businesses in the community, like Subaru, are keeping their cancer patients in their thoughts through donations like these.
---