Two popular SUV options for the adventurer on the go are the Subaru Crosstrek and the Jeep Renegade. Each of these models flashes off-roading capabilities that make them attractive to drivers around Turnersville, Cherry Hill and Mount Laurel. But, how do these midsize SUVs match up to one another?
To find out which model is best suited for your lifestyle, check out this 2018 Subaru Crosstrek vs. 2018 Jeep Renegade review.
Crosstrek vs. Renegade Engine & Efficiency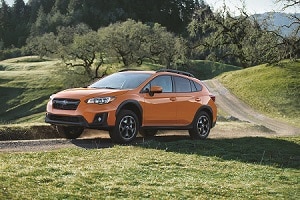 When looking at the engine specifications of both the 2018 Subaru Crosstrek and the 2018 Jeep Renegade, fuel economy often jumps out to the front of the debate.
First, the new 2018 Crosstrek features a 2.0L 4-cylinder SUBARU BOXER® engine that garners an available EPA-estimated fuel economy of 27 mpg city and 33 mpg highway.
When looking at the Renegade, you get to choose between two engine options, with the first being a 1.4L 4-cylinder and the second a 2.4L 4-cylinder. However, the best fuel economy available maxes out at an EPA-estimated 24 mpg city and 31 mpg highway.
There's also a noticeable difference when looking at the size of the fuel tanks. If you're fond of going on lengthy road trips, the 16.6-gallon fuel tank found in the Crosstrek will help you avoid gas stations longer than the 12.7-gallon tank in the Renegade.
Compact SUV: Interior Dimensions
No matter where your travels take you, it's always nice to have a little extra room for supplies or simply stretch out your legs.
When you start looking at the dimensions found in the cabin of the Subaru Crosstrek, you'll notice it offers an abundance of space with 43.1 inches of front legroom and 36.5 inches of rear legroom. By comparison, the Jeep Renegade provides 41.2 inches of front legroom and 35.1 inches in the rear.
The total passenger volume of the Crosstrek is 100.9 cubic feet, with the Renegade coming in not far behind at 100.1 cubic feet.
Finally, if you're interested in carving out as much space for supplies as possible, the Subaru Crosstrek offers 20.8 cubic feet of cargo room, compared to the 18.5 cubic feet found in the Jeep Renegade.
Subaru Crosstrek vs. Jeep Renegade Technology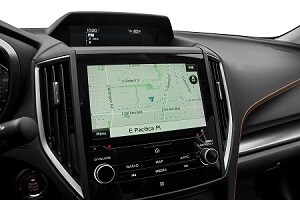 It's always nice to have a user-friendly infotainment system available whether you're making that daily commute or just running some errands.
Both the 2018 Subaru Crosstrek and the 2018 Jeep Renegade have available Apple CarPlay™ and Android Auto™ technology. This means you'll be able to sync your smartphone with your vehicle, then access apps and music on the touchscreen display located on the dashboard.
Two standout features in the Crosstrek include the SiriusXM Travel Link®, which makes navigation much simpler, and the Subaru STARLINK™. This second feature is especially useful, as it allows drivers the opportunity to use a flurry of different applications such as iHeartRadio®, Yelp, Magellan NAVI® and much more.
While the Renegade has available SiriusXM Travel Link®, it doesn't have a system that matches the depth or entertainment value of Subaru STARLINK®.
Test Drive a Crosstrek at Prestige Subaru
As outlined in this 2018 Subaru Crosstrek vs. 2018 Jeep Renegade comparison, both of these appealing models offer unique driving experiences. However, the 2018 Subaru Crosstrek flashes better fuel economy and more cabin space, which helps it appeal to a wider variety of drivers around Turnersville, Cherry Hill and Mount Laurel.
If you'd like to hop behind the wheel of this athletic model, contact Prestige Subaru and schedule your test drive today!