In recent years, the crossover has reigned supreme as the top choice of many drivers.  As a result, manufacturers are creating these vehicles with a little extra oomph to entice shoppers.  Drivers in the Turnersville, Cherry Hill, and Mount Laurel areas have several choices as to which crossover they choose, but two of the best on the market are the 2018 Subaru Outback and the 2018 Toyota RAV4.
Here at Prestige Subaru, we want to make our drivers' options clear and assist them in making the right decision for their needs.  Both vehicles offer stupendous features, but you still want to know all the little details about each one.  We've created an easy to understand guide that walks you through their similarities and differences.  When you're ready to make your final decision, we'll be here.
Outback vs RAV4: Engine Power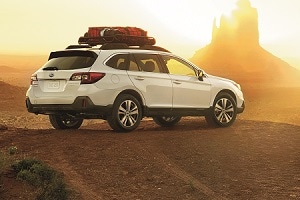 Both these vehicles offer enough power to get you where you need to go, but there are specific advantages that are unique to each one.  The Subaru Outback comes equipped with a 2.5L DOHC 4-cylinder engine that offers up 178 horsepower, while the standard RAV4 engine is also a 2.5L DOHC 4-cylinder engine, but can only put out 176 horsepower.  The 2018 Outback offers a bit more power for when it really counts, like on a busy highway.
The 2018 Outback comes standard with Subaru Symmetrical All-Wheel Drive on all trim levels of the vehicle, but the RAV4 only offers all-wheel drive on the top trim level.  Having a vehicle with all-wheel drive in a city where the weather can be unpredictable provides unspeakable peace of mind, especially when driving your kids home from school during a surprise storm.
Subaru Outback vs Toyota RAV4: Cargo Space and Towing Capability 
One of the biggest reasons people have found themselves entranced by the humble crossover is that it offers more space for the things that matter, whether it's your daughter's cello for the school orchestra or those great furniture finds during yard sale season.  Both the 2018 Outback and the RAV4 offer 73 cubic feet of cargo space with the rear seat folded down, so these vehicles can accommodate anything you want to stow.
Another reason drivers love crossover vehicles is because a lot of them offer an impressive towing capacity without the large difference in the gas mileage.  The Outback has a maximum towing capacity of 2,700 pounds, while the RAV4 offers a respectable 1500-pound capacity.  While the RAV4 can certainly hold its own when you want to tow your bicycles to the beach with you, the Outback offers a better capability if you're hauling something a little bigger.
Amenities & Features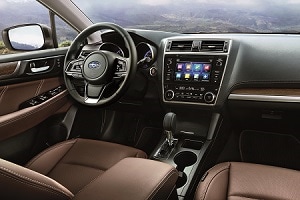 While each car manufacturer offers great features, sometimes the deciding factor is the little extras that offer a different level of convenience.  For example, the 2018 Subaru Outback offers two cargo-area grocery bag hooks and four cargo tie-down hooks, and on all but the base it offers a cargo area cover.  The RAV4 has the cover as an option, but it does not offer the same hooks.  The added convenience of knowing your groceries aren't go anywhere is an attractive option.
Both vehicles, however, offer eight cupholders, which may not seem like a deal-breaker, but when you have several kids in the backseat, vying for space, they're a big help.  Both the Outback and the RAV4 also offer a standard backup camera system that offers an extra eye when you're backing out of the driveway or a grocery store parking spot. 
2018 Subaru Outback vs 2018 Toyota RAV4: The Choice is Yours
Once you've read through what each vehicle has to offer, like great cargo space, the towing capacity, and all the little extras, the decision is yours.  Drivers in the Turnersville, Cherry Hill, and Mount Laurel areas know what they're looking for and may find themselves in favor of one.  At Prestige Subaru, we can help you narrow things down a little further and get you on your way with your new Outback today, so come see us soon!