Without motor oil, your engine would lock up and fail to run. This important fluid is responsible for keeping the mechanical components of your car working smoothly. That's why it's so important to follow the recommended maintenance schedule for your vehicle, taking care to have the oil and other parts of the system changed at the appropriate times.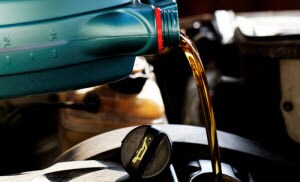 Also, keep an eye out for any indication of oil leaks. If your car prompts you with a light on your dashboard that says you need to check your oil, don't ignore it. Failing to keep an adequate amount of oil in the car or to change the oil regularly could result in permanent damage to your vehicle. 
If you're in Turnersville, Cherry Hill, or Mount Laurel, NJ, stop by Prestige Subaru and let us change your oil for you. Our excellent service department would be happy to assist you. 
Before you come in, though, take a moment to arm yourself with a bit of basic automotive knowledge. It's important to know that all engine oils aren't created equally. There are some big differences between synthetic and conventional motor oil. Here's a brief overview. 
Ultimate Engine Cleaner
Motor oil circulates throughout your engine, collecting debris and keeping the parts clean. After a while, conventional engine oil becomes dirty, forming a sludge that causes your engine to work harder to produce the same power. Not only does this reduce the efficiency of your vehicle, but it also takes time off the life of your engine. 
Synthetic motor oil is the better option, as it has fewer impurities when compared to conventional oil. This helps to prevent the creation and buildup of sludge. 
Great Engine Protection
The parts of your engine are in constant contact with one another and move at incredibly high speeds. Though these parts are made of tough material, this extreme environment naturally causes wear and tear. Without the protective barrier formed by motor oil, your engine would break down quickly. While conventional oil does a fine job of protecting the engine, it doesn't last as long as synthetic motor oil. 
Standing Up to Extreme Temperatures
In both extreme high and low temperatures, your engine oil behaves a bit differently. In the cold, conventional oil takes a while to flow through your engine. This is why it's recommended to let your car run for a few minutes before driving in cold weather. Synthetic oils were created to disperse quickly, even when it's very cold out. 
In the heat, conventional oil begins to break down. Because synthetic motor oil wasn't made with the same components, it's heat resistant.
Get Your Oil Changed at Prestige Subaru
Are you a driver in Turnersville, Cherry Hill, Mount Laurel, or the surrounding areas? If you aren't already following a routine maintenance schedule for your vehicle, now is the time to start. Schedule an oil change at Prestige Subaru today!